According to the official warm-up poster, the theme of the conference is "SHAPE THE FUTURE". The press conference will be broadcast live on multiple social media platforms, and the highly anticipated Paris Saint-Germain x GEEKVAPE new product will also be unveiled.
According to the information in the public invitation letter released by GEEKVAPE, the event will be held on the spot of the Champions League match between Paris Saint-Germain and Real Madrid. At the same time, GEEKVAPE will also release a new brand strategy.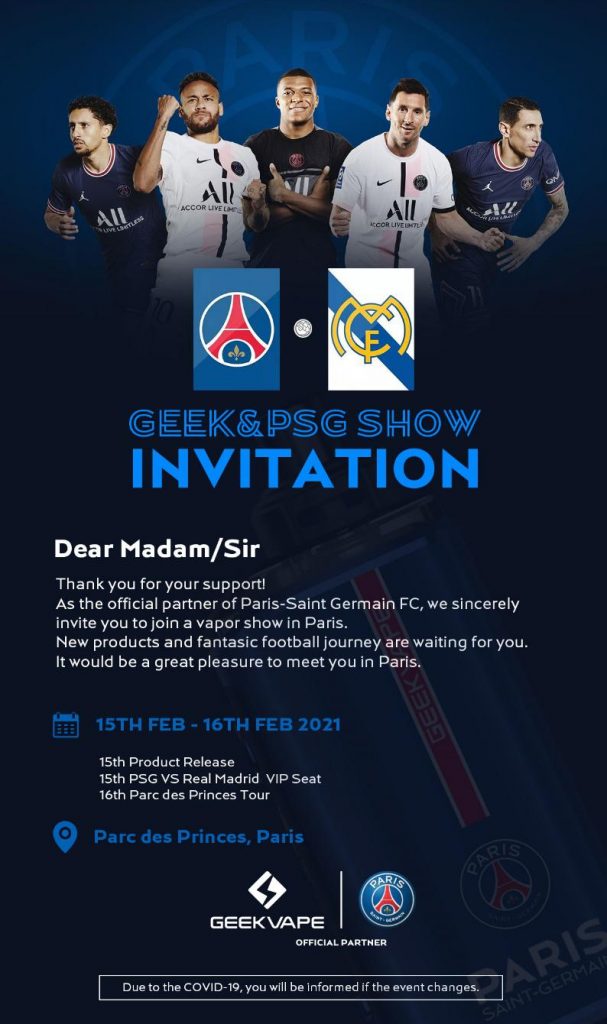 According to public information, GEEKVAPE, founded in 2015, is the world's leading provider of electronic cigarette solutions, specializing in R&D and production of electronic vaping products. It is one of the largest vaping companies in the world.
GEEKVAPE is the world's leading e-cigarette brand and Paris Saint-Germain is the undisputed ruler of Europe. After the cooperative efforts of all parties in official publicity, the e-cigarette and fan market was shaken to the core. GEEKVAPE not only shines in the world, but also creates a high-end brand line in the industry, becoming the first e-cigarette brand to cooperate with football giants. Health sports, TV commercials, peripheral products and other fields have been identified as areas where the two sides will cooperate closely.