A quarter of adults have regularly vaped during the pandemic, and many are also smoking, a new Morning Consult survey shows.
Policymakers have been playing a cat-and-mouse game with e-cigarette makers for years. In 2020, amid a public outcry over a surge in teen vaping — and an eventual outbreak of a mysterious lung disease linked to THC vaping — the U.S. Food and Drug Administration stepped up enforcement efforts against vaping makers. Meanwhile, this month, Congress closed a loophole in those rules that allowed some manufacturers to evade FDA oversight by using synthetic nicotine instead of tobacco-derived nicotine.
E-cigarette sales have exploded over the past four years, even as U.S. e-cigarette use has skyrocketed and then recently began to trend downward, including among teens. For example, the estimated share of high school students who use e-cigarettes fell from 27.5% in 2019 to 11.3% in 2021, when many schools were still facing disruptions from the pandemic, meaning the percentages may not be directly comparable. Meanwhile, 3.7 percent of adults vaped in 2020, down slightly from the previous year.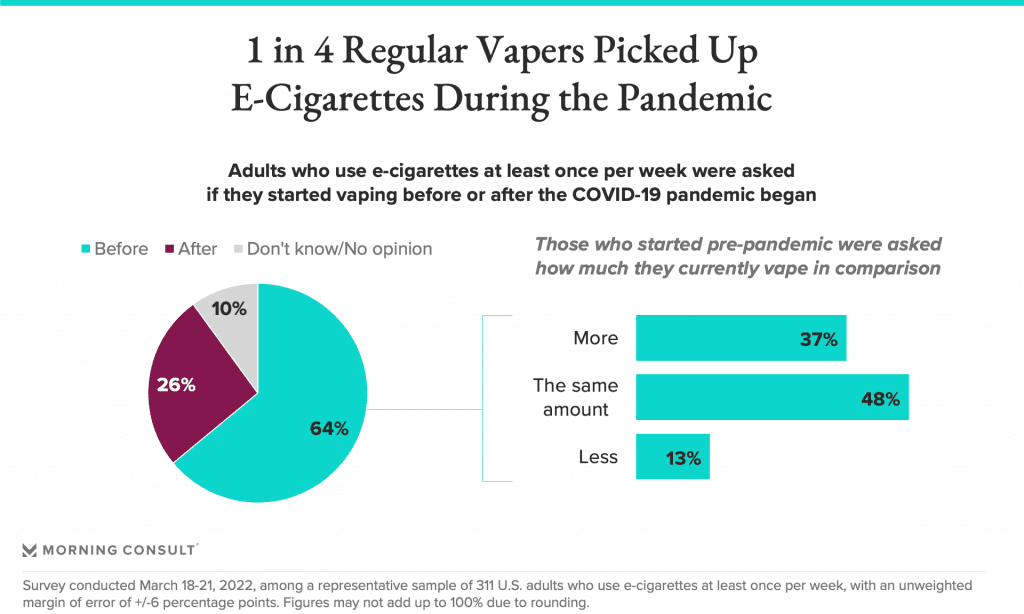 E-cigarettes are just as harmful as cigarettes despite their potential as a smoking cessation tool, public says
The new findings shed some light on this apparent paradox, in addition to shedding light on public perceptions of vaping as an alternative to traditional cigarettes. Among adults who vaped regularly and started vaping before the pandemic, 37% say they are vaping more now than before the pandemic crisis began, and 48% are vaping the same amount .
Matthew Myers, president of the Campaign for Tobacco-Free Kids, an anti-smoking advocacy group, said the investigation underscores "the importance of the FDA upholding its jurisdiction to regulate products, how they are marketed, and what consumers are told."
Additionally, while the e-cigarette industry has called their products a smoking cessation tool—indeed, Juul Labs Inc. is trying to clean up its image after facing a series of lawsuits, alleging it targets children through the use of fruit flavors and funky marketing—the survey shows The public doesn't buy it.
Adults reported similar views of traditional cigarettes and e-cigarettes, with about seven in 10 saying they had negative views of both. Meanwhile, the public was most likely to say e-cigarettes and cigarettes are bad for people's health, at 52%, with another 16% saying e-cigarettes are worse and 14% saying traditional cigarettes are worse.
Perhaps unsurprisingly, people who use e-cigarettes regularly (at least once a week) are more likely to say e-cigarettes are less harmful to health than traditional cigarettes.
"E-cigarettes have some promise as an alternative to smoking, but they're not some very powerful panacea," said Eric Lindblom, a former official with the FDA's Center for Tobacco Products and now a senior scholar at the Georgetown University Law Center. O'Neill Institute for National and Global Health Law.
One-third of the average e-cigarette user said they used tobacco cigarettes more than five times a day, while 40% used e-cigarettes regularly. Meanwhile, only 10 percent of regular smokers said they vaped at least five times a day.
General smokers also had a stronger preference for e-cigarettes (41%) than their preference for e-cigarettes (66%).
For smokers trying to quit smoking, e-cigarettes are a complete alternative. But some people smoke both e-cigarettes and cigarettes, and research suggests they may eventually struggle to wean themselves off nicotine-laced e-cigarettes.
"We're all concerned about the government's failure to create proper regulations and then communicate the risks properly," Myers said.
The wider public has a negative view of teens' relationship with vaping. Nearly three-quarters of adults are concerned about claims that e-cigarette makers target their products to young people, and 72% say these companies are responsible for young people's use of e-cigarettes – versus 74% who say schoolchildren are to blame The proportion of parents is equal.
Survey was conducted March 18-21, 2022 in a representative sample of 2,211 U.S. adults with an unweighted error of +/-2 percentage points.
However, adults generally blamed, with another 66% saying the FDA was at fault.
"It's deplorable to blame parents. Manufacturers in the industry, retailers selling to children, they really should bear the most responsibility for this problem," Lindblom said. At the same time, the FDA "didn't cause a problem; they just didn't stop it quickly and firmly," a problem he said was caused by bureaucratic and political obstacles during the Obama and Trump administrations.
E-cigarette makers will soon see whether the jury agrees. Juul will face trial this summer after settling multimillion-dollar lawsuits in Arizona and North Carolina alleging that it knowingly marketed its products to children. When such allegations first surfaced, the company launched a massive PR blitz, pulling most flavors — with the exception of menthol, which the FDA is now considering banning — off shelves in late 2018.
Not all e-cigarette makers are eager to abide by the rules, though, and experts warn they may find other regulatory workarounds. For example, in July 2020, the FDA ordered Puff Bar to remove its flavored vaping products from the market—but the company resumed sales in February 2021, this time using synthetic nicotine, and quickly became the No. 1 among young adults brand of e-cigarettes.
This phenomenon prompted Congress' recent decision to bring synthetic nicotine into the FDA's purview. The survey shows that the public is receiving tighter regulation: Two-thirds of adults say the FDA should make further efforts to limit the production of flavored vaping products. Support for state-level legal action is also supported by a majority.
"For more than a decade, e-cigarette manufacturers have gone to great lengths to delay and evade regulation," Myers said. "It is critical that the FDA remain vigilant and act swiftly when it sees e-cigarette makers finding new ways to attract children."
Juul, Puff Bar and the FDA did not respond to requests for comment.