Dinner Lady is back again with another disposable vape kit, this time they have upped the flavour. The Dinner Lady Vape Pen Pro comes in 14 sweet flavours which are closer to those found in the leading bars but with some nods to the Dessert tastes the brand is best known for. These bright and colourful devices have a built in 500mAh battery and contain 2ml of nic salt e-liquid. This means it can provide up to 600 puffs.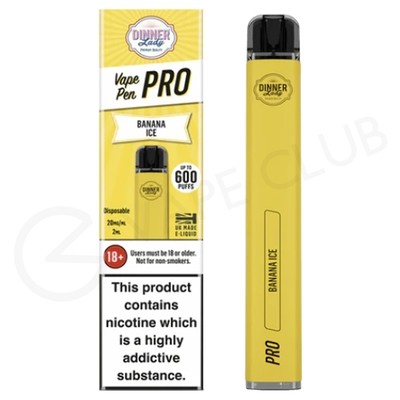 What is dinner lady vape pen pro disposable vape?
The Dinner Lady Vape Pen Pro features 14 legendary Dinner Lady flavours and comes with 2ml of pre-filled e-liquid containing 20mg (2%) of premium nicotine salts. Providing you with a smooth throat hit, enhanced flavour and discreet vapour production for a mouth to lung (MTL) style vaping experience that closely matches the sensation of smoking a cigarette.
The Dinner Lady Vape Pen Pro is made from stainless steel and features a PETG rubber paint and silk print soft touch body. Slim, compact and made to be taken anywhere with you, the kit is equipped with a bespoke 1.6ohm coil and a 500mAh battery, which is fully charged and ready to be vaped straight out of the box using a simple inhale.
The micro control unit (MCU) also provides the ultimate battery protection while the printed circuit board (PCB) controls voltage for extra safety when vaping.
Enjoy up to 600 puffs per device which is equal to around 40 cigarettes and designed to make the transition from smoking to vaping effortless.
Flavours:
Banana Ice
A sweet combination of banana and vanilla cream chilled to perfection.
Blueberry Ice
Ripened and sweetened blueberries, served with an added kick of ice.
Double Apple
A sweet and sour candy flavour profile. Crisp apple on the inhale, with a tangy burst of fizzy sherbet on the exhale.
Grape Star
A truly unique flavour! Chilled fruity red and black grapes, with a touch of aniseed.
Lychee Ice
A soda based blend with tropical punch! An iced sparkling lemonade elevated with the sweet taste of lychee.
Peach Bubble
This Peach bubble gum flavour that provides a vaping experience worth chewing on.
Pink Lemonade
A sharp and fruity blend of red berries and strawberries combined in a tangy lemonade, served on ice.
Razz Blue Lemonade
Burst of mixed sweet blueberries and ripened raspberries gives a whole new take on an already famous profile.
Red Thunder
Our new energy drink flavour that's just how you would imagine, but without the caffeine or the midday crash.
Strawberry Ice Cream
This profile screams of nostalgia! Fresh and sweet strawberries, layered with a rich vanilla cream on ice.
Strawberry Kiwi Watermelon
A medley of fresh sliced watermelon, honeydew and cantaloupe, complimented by succulent strawberries and a thin layer of kiwis.
Spearmint Menthol
An incredible fusion of spearmint eucalyptus and menthol. Some might say its's the perfect all day vape of menthol profiles.
Tropic Mango Chill
A deliciously chilled tropical fusion, sweet, sour and juicy mangoes fused with a fresh and cooling hit.
Watermelon Ice
A newer take on Dinner Lady's famous watermelon profile! With sweet cantaloupe, fresh honey dew and crisp watermelon, this trio will have watermelon lovers across the globe hooked.
Why Buy The Dinner Lady Vape Pen Pro?
The best part about a disposable is that it is an all-in-one device. There are no coil changes or e-liquid refills needed for ultimate convenience. Plus, you can pick up multiple devices to switch seamlessly between flavours. Compared to other disposables the Dinner Lady Vape Pen Pro stands out thanks to its unique rectangle design, which makes it great for people who like a device to fidget. As well as this, the mouthpiece is also curved making it comfortable to inhale from.
Pros and Cons
Pros
High-quality e-liquid makes sure an impressive flavour;
Simple and convenient design, pocket-friendly;
Cons
There should be more classic and unique flavours from Dinner Lady, such as Lemon Tart;
Summary
As the latest disposable vape from Dinner Lady, the Dinner Lady Vape Pen Pro no doubt is a reliable option to choose for most novice vapers since it is made of high-quality e-liquid, is easy to operate and is efficient to hold the nicotine cravings. Well, it could have been better if there are more flavours to choose from.