As the hottest disposable product by Elux, the Elux Legend 3500 Puffs has numerous rich flavors. Unique, sweet, and fresh, there is everything in its pulls. Maybe ELUX Legend doesn`t catch people`s eye as quickly as the Elf Bar 5000 Puffs line-ups do, its rectangular column body provides a good grip and makes it more suitable for placement. Or rather, the understated classic design of Elux Legend 3500 just makes it more like a one-size-fits-all machine that can get along with everyone.
Design & Quality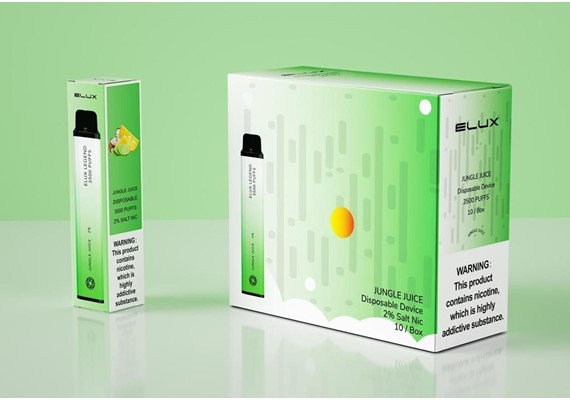 Elux Legend 3500 has an elegant and simplistic appearance, with only simple words and a logo printed on top of the body. The rectangular columnar pod with a slightly convex roundness provides a great grip. The weight is light enough to carry around.
It comes in a variety of colors and flavors to pick from, with a unique multi-color paint job representing each flavor combo. Its mouthpiece is flat and ergonomic. On the base of it lies an airflow adjustment valve for fine-tuning the air allowed in, so actually we can have a bit of control over vapors created. We love to keep the air hole half-open when the draw is more restricted and delivers a more intense flavor and a better cooling effect.
Elux Legend 3500 Puffs feature 20 mg of nicotine strength in every ml of e-liquid, which helps you get the right buzz along the way. Also, there is no leaking.
Best Flavor of Elux Legend 3500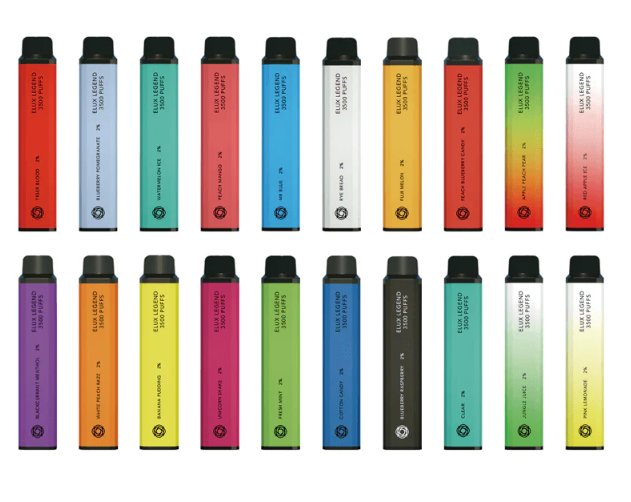 1.Fresh Mint
I really appreciate the Fresh Mint flavor. It tastes very fresh just like the flavor name and has a cold sensation in the mouth. It makes me feel refreshed and calmed. The smooth and mellow mint is like breathing the fresh air on a winter morning. It killed my tongue; I would highly recommend you to try it
2.Blueberry Raspberry
The blueberry raspberry offers juicy raspberry blended with sweet-tart blueberries for a classic smoothie taste. The mixed berries deliver a soothing taste, light and sweet but not greasy. It can bring you a pleasant day.
3.Peach Mango
The mixture of peach and mango is just right, you can taste the sweetness and sourness of the mango as well as the freshness of the peach. The mango doesn`t overpower the peach, so it`s like tasting a juicy mango-peach mix without being overly sweet, and you won`t get tired of vaping it all day.
4.Sour Apple
If you don`t like the sour taste, you can avoid this flavor. But this sour apple doesn`t give you a weird sour taste, it`s like eating a non-greasy apple pie, it doesn`t stay in your mouth for long, and the sourness makes it not cloying. Although it doesn`t have ice, I can taste the icy sensation, which is a pleasant surprise.
How Long Does an Elux Legend 3500 Puffs Last?
Powered by a 1500mAh built-in battery and pre-loaded with 10ml e-liquid, Elux Legend can give an average user approximately 3500 puffs. For me, I vaped it 4-5 hours per day, and the battery can last about 5 days, so it is kind of impressive. During use, I recharged it once. While the disposable vape utilizes micro-USB charging, which performs not as well as Type-C charging devices.
Price
Compared with Elf Bar BC3500, they are about the same price, both around ?12, and even cheaper when getting coupons. While currently Elux legend 3500 is put up for sales mostly in UK e-commerce sites, most of which we found offer rather attractive discounts if you buy in bulk.
Summarize
As one of the most popular disposable e-cigarettes, the Elux legend 3500 is worth trying. With 20mg nicotine, it gives you a kick but is not too stimulating, and the 3500 puffs are long-lasting. With fantastic flavors, good quality, and nice design, there is no reason you can refuse it.