The Elf Bar is a brand new disposable vape device. Available in several different flavours, this range is great for vaping on-the-go, nights out, and smokers looking to try vaping for the first time. Here's our review of the Elf Bar 600 collection.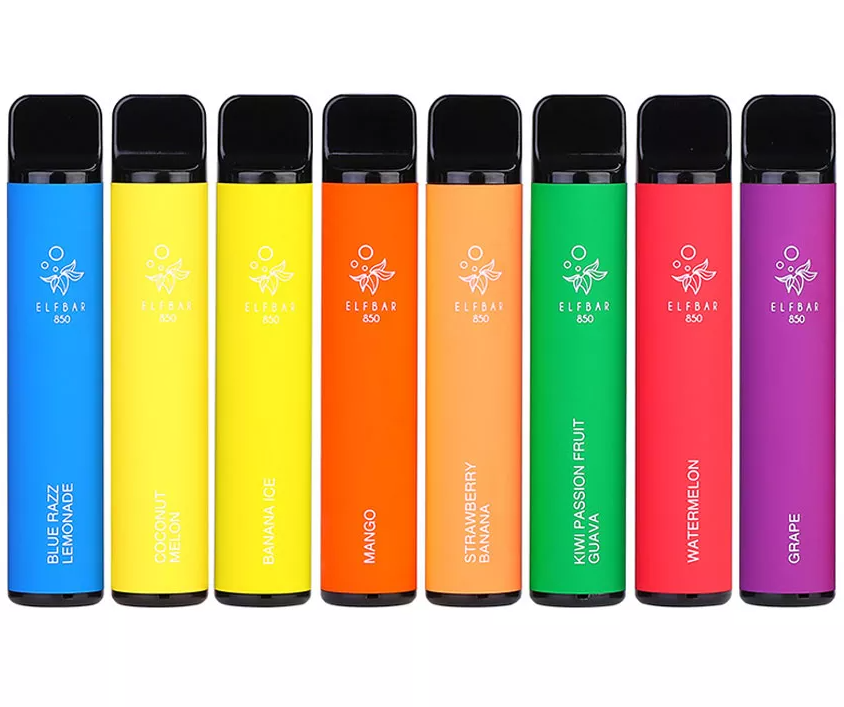 What is an elf bar 600?
The Elf Bar 600 Disposable Vape Kit features a convenient, pocket-friendly body, including a large, built-in 550 mAh battery, despite its small size. The prefilled 2 ml e-liquid pod contains nicotine salt e-liquid, with options for either 20 mg or 10 mg nicotine strengths.
This disposable kit can provide up to 600 puffs, or the equivalent of approximately 45 cigarettes. Puff counts are approximate and dependent on the length of draws on each use. Significantly lower puff counts can be found if longer draws are taken.
How much nicotine is in an ELF BAR 600?
20mg. It also can be expressed as 2% nicotine strength because there is 20mg nicotine in 1g e-liquid. You can also find 0mg nicotine Elf Bar in NewVaping.
How long does an ELF BAR 600 last?
It depends on your use frequency, it is capable of delivering up to 600 puffs. Generally, it can last at least 1 day if you are a heavy vaper, and 3-5 days if you occasionally vape.
Elf Bar 600 Flavours
Coconut Melon: Coconut and melon, are the concentration of summer. On the beach, by the pavilion or sitting in front of your TV and having coconut juice, eating ice melon, that's one of the most relaxing things to do in summer. Slight sweet coconut aroma and tangy melon taste with a little bit of cooling note offered by ELF BAR, lay down and enjoy every vape!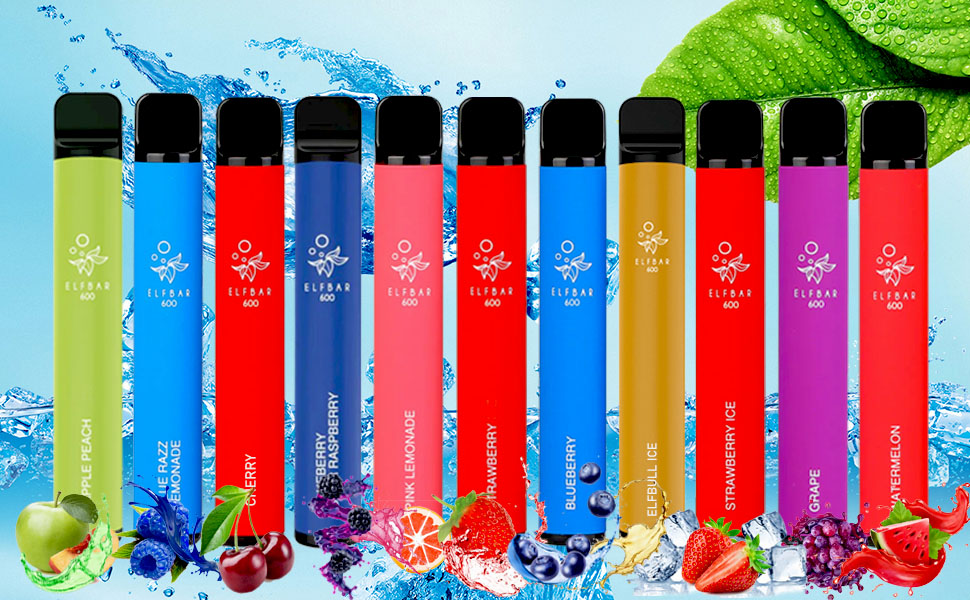 Apple Peach: The sour&sweet of apple plus the tangy fragrance of ripe peach create this amazing Apple Peach flavour. Every vape is full of fruity and refreshing taste.
Mango: Mango, one of the most popular tropical fruits, is famous for its unique tangy ripe aroma and sweet taste. Now ELF BAR makes it more attractive, you can smell the mango fragrance, taste the warm vapour then a sweet aftertaste lingers on your taste buds. Enjoy the vape!
Spearmint: Spearmint is made with simple ingredients with a strong mint taste, just like an invisible spear softly hitting right on your throat yet with a little bit of sweetness, definitely a powerful refreshing good helper, giving you a refreshing feeling with every vape.
Strawberry Ice Cream: ELF BAR offers warm refreshing strawberry plus sweet cooling ice cream flavour, every puff is full of the aroma of creamy sweet and fresh berry fruit sour, leaving a cooling menthol aftertaste in your mouth and completely satisfying your picky taste buds.
Lychee Ice: That's the combination of fire and ice. ELF BAR vape offers the unique exotic flavours of lychee with a delicious menthol twist. The sweet flavour of the tropical lychee is excellently complemented by the naturally refreshing menthol, creating a perfectly balanced vape.
Cola: Finishing a whole bottle of Ice Cola in one gulp must be one of the most cheerful to-do things on a hot summer day. Now ELF BAR disposable vape pod contains the Cola flavour and cooling mint flavour vape juice, take a puff and feel the joy that summer brings.
Cotton Candy Ice: Candy and sweet-lovers, pay attention, please! The ELF BAR Cotton Candy Ice flavour is mixed with marshmallows and candy plus refreshing cooling mint. Every inhale is a full mouth of sweet happiness, that's all.
Mango Milk Ice: The ELF BAR Mango Milk Ice flavour captures the bold taste of tropical mango and a smooth soft creamy milk finish. The sweet flavours of the tropical mango are perfectly complemented by the naturally refreshing menthol, plus the soft and creamy milk, creating a brilliantly balanced vape, bringing you a thick and cooling vaping experience.
Cream Tobacco: As the name clearly implies, this is a tobacco flavour vape with cream, sounds funny. The ELF BAR Cream Tobacco flavour maximumly restores the flavour of traditional tobacco, thereby this flavour perfectly fits those smokers who miss the taste of tobacco and get less harm from vaping rather than smoking.
Watermelon: Watermelon always reminds us of carefree summer days, sitting in front of the TV enjoying the cooling wind from the air conditioner and eating a bowl of watermelon, we can't be freer and easier than that. Now elf bar 600 watermelon ice flavour not only brings you the fresh watermelon fragrance note but also leaves a strong cooling menthol aftertaste with your every vape.
Blueberry: Blueberry is always on the top choice of our fruit salad menu for its sweet and sour taste, and so does vape juice. You can smell the tangy blueberry aroma of the ELF BAR even without vaping, whereas when you take a puff, the particular refreshing sour&sweet taste quickly covers your taste buds, then leave a wandering fragrance in your mouth.
Blue Razz Lemonade: Blue Razz is mixed with blueberry and raspberry flavours, with sweet, sour and juicy tastes.
Strawberry Ice: Strawberry Ice is a light and sweet blend, the bold fruity notes are complemented by the added ice. Experience the refreshing taste of summer all day long with the Strawberry Ice ELF BAR. Packed with the full-bodied flavours of the British strawberries, this ELF BAR provides a deliciously sweet vape, with a twist of menthol. If you're looking for a vape that produces unbeatable flavour with a fragrant aroma, the Strawberry Ice ELF BAR is for you.
Grape: The hot sunshine sprinkles on the succulent grapes and heat gives rise to the total ripe of it. Now the essence of the tangy fragrant grape blended with e-liquid, take a puff and feel the vigour of the juicy grape from ELF BAR!
Pink Lemonade: The Pink Lemonade flavour is balanced between fruit and fizz, which is sweet and sharp. It is the taste of summer. Pink Lemonade Beco Bar is a concoction of refreshing, zesty and cloudy lemonade and a sweet burst of plump summer berries. The blend of flavours creates a perfectly balanced e-juice with a unique vaping flavour that will tantalize your taste buds.
Banana Ice: A sweet and fruity banana flavour combined with a hint of refreshing menthol. The Banana Ice ELF BAR will bring you the feeling of an enthusiastic summer with every vape. The fresh banana provides endless mouthfuls of creamy sweet flavour which are perfectly backed up by the invigorating minty freshness.
Kiwi Passion Fruit Guava: As the name implies, ELF BAR cooked such colourful tropical fruits as hotchpotch. Passion fruit is known for its various tropical fruits fragrance, the amazing aroma is like the smell of ripe mango, banana and lychee, blended with Kiwi and Guava making this flavour extraordinary as a tropical fruits hotchpotch vape. Inhale the sweet-smelling and exotic fragrance with just the right nicotine strength definitely wipe out all your fatigue and give back your passionate spirit.
Strawberry Banana: The Strawberry Banana ELF BAR vape is filled with delicious flavours of fruity goodness, giving you endless mouthfuls of delicious flavour. The delicious flavours of creamy banana and succulent strawberry meld perfectly to provide a moreish vape.
Pineapple Peach Mango: Let's have a fruit feast! ELF BAR blended the three popular fruit flavours into one disposable vape bar, pineapple, famous for its refreshing sour; peach is full of pleasing aroma and mango is known for its particular tropical sweet flavour. Now pick this vape bar and enjoy the feast!
Peach Ice: ELF BAR brings the deliciously fruity flavour of peach with a delicious cooling menthol twist. The sweet and succulent flavour of the fresh peaches takes centre stage and is wonderfully accompanied by the refreshing menthol aftertaste, bringing back the memory of those idle summer days with friends.
Red Bull Ice: Missed the flavour of the functional beverage Red Bull? Now you don't have to take a Red Bull can or bottle in your hands for the unique energy drinks taste, just get a compact and pocket-friendly ELF BAR disposable vape pod of Red Bull Ice flavour, and then you can enjoy the energetic and cooling menthol aftertaste feeling anytime.
Cherry: It is a purely sweet and sour cherry flavour, bringing a smooth throat hit and a fragrant aftertaste.
Cherry Cola: It exactly mimics the same flavour from the popular beverage Coca-Cola Cherry Cola flavour. A full-bodied cherry aroma plus a tantalizing cola fizz, that's the best flavour for hot summer days that ELF BAR brings.
Strawberry Raspberry Cherry: Another berry banquet, it is a nice blend of fresh strawberry, tangy raspberry, and fragrant cherry. You won't miss it if you are an ELF BAR 600 berry lover.
Pink Grapefruit: ELF BAR pink grapefruit features a refreshing citrusy combo capturing bitter-sweet notes of pink grapefruits and hints of ice to create a delightfully fresh and smooth MTL vaping experience.
Conclusion
ELF BAR 600 is a great addition to your e-cigarette arsenal. The cartridges have a strong, consistent vaping power that pairs perfectly with zero nicotine e-cigarette oils. With flavors like strawberry and cream, blueberry, and other delicious dessert flavors, you're sure to find something to suit your tastes. If you're not familiar with e-cigarettes or don't want to spend too much on a device, grab one of the disposable cartridges. It's affordable and provides quality vapor without breaking the bank. It ranks second in our top 10 vape pens because it's affordable, easy to use, and packs a punch. If you're looking for an affordable way to get started with e-cigarettes, check it out.